The Crab House Café, Weymouth, Dorset
By Matthew Norman
Saturday, 15 May 2010
So far as the views, Hix's aerial seascape wins by a mile, or at least a vertical furlong, because the sea-level vista at the Crab House lacks picturesqueness. "It's a bit bleak," I moaned, staring over scrubby land between shack and stony beach.
"I rather like bleak," my wife said, adding something semi-audible that I misheard as, "I've been married to you for nearly 20 years, haven't I?"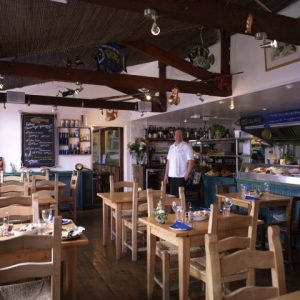 When it comes to the cooking, however, the Crab House wins by following that most opaque of formulae: it takes local ingredients of top quality, cooks them simply and accurately in its open kitchen, and serves them (via friendly teenagers in aprons) without poncery.
"Blimey, these oysters are wonderful," I enthused of my startlingly meaty "country-style" Portland Royals with bacon and cream. "How can they possibly taste so blisteringly fresh?"
My wife and a pubescent boy of our acquaintance pointed through the window in world-weary unison.
"Yes?" I inquired. "And?"
"And," said one of them, "that there is the oyster farm owned by the restaurant."
If eating food that travelled 30 feet from birth to table added an almost visceral layer of pleasure, the boy's scallops in a delicate, garlicky sauce were also "incredibly sweet and fresh". Offered a lavish choice of aquatic life forms, meanwhile, my wife couldn't resist the handmade pork pie with piccalilli. "Delicious. Not enough jelly, but great flavour."
She was less thrilled with her main course, herrings with roasted garlic and rosemary being overcooked to a spongy, watery finish. But the boy's mussels in a lemon and thyme sauce were as plump and juicy as the oysters, and my whole lemon sole was a princely fish perfectly cooked and enlivened by a Mediterranean medley of peppers and other veg. The generosity of portions made puds a struggle, but we did our selfless best with a vast wedge of Dorset apple cake laced with cinnamon and a luscious peanut butter parfait with toffee sauce.
Dwelling contentedly over the wine, from a short but decent list, we awaited a sun that declined to put his hat on and come out to play. Yet for all the bleak weather ("I rather like bleak," murmured my wife. "After all, I've been… oh, I've done that one already"), the Crab House gets a resounding hip, hip, hip hooray. Whether sat inside in a room veering just the right side of twee, with fossils and piscine ceramics fighting blackboards for wall space, or at a table outside where we've eaten before (I warmly recommend the Chinese-style whole crab), this is as artless and engaging a restaurant as you will find.
All that remains is to find the cash and persuade McEwan to come on board by not only reading from his novel, but also discussing how his poignant tale of a frigid bride might have been influenced had the Crab House been there for fretful honeymooners in 1962. A dozen of those Portland Royals, you suspect, would have cost him the central premise by page five. But that's one for the tour.
"Oyster beds have flourished on the fleet Lagoon since the 11th Century – so it's possible that King Canute necked a few from around here. The Crab House Cafe serves oysters farmed from the fleet waters as well as Portland crab and giant prawns in tarragon butter. It really is the food of Kings."