The Crab House Cafe Book
"We're devotees of the early 21st century shack school of architecture" says Nigel Bloxham of his nationally-famous seaside restaurant. But then you don't visit the Crab House Café in search of grandeur. Just a stone's throw from Dorset's Chesil Beach, it has earned a world-class reputation for its delicious seafood.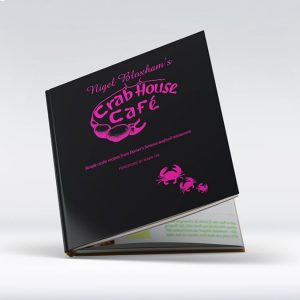 Nigel's menus are built on the freshest fish and shellfish harvested from the surrounding coast – including the Crab House's own oyster beds, just yards from the dining tables.
Nigel draws on a lifetime of experience in sourcing, preparing and cooking good seafood in this, his long-awaited first book. Featuring classic Crab House Café recipes – simple, rustic and easy to cook and enjoy at home – alongside handy tips and facts, it's a must for all who love the natural bounty of the sea. Dive in and enjoy.
Order Your Copy
Books can be ordered direct from the Crab House Café
or by calling 01305 788867
(£19.95 + £3.95 post and packaging)
All books ordered from the Crab House Café will be personally signed by Nigel
You can also order from Amazon.co.uk